Travel through a magical world full of amazing creatures!
In this extraordinary MMORPG game, we land in a rich world of magic and adventures, in a graphic frame reminiscent of anime productions. We land in the land of Azuria, a mythical world protected by a powerful relic, which will give us not only the ability to wield magic, but also summoning magical creatures that will join the player during his journey.
Aura Kingdom is the work of Taiwanese company X-Legend, which is famous for fantasy MMORPG titles. It is a game similar to another title of this studio - Twin Saga. The game is held in the style known from manga or anime, and set in the realities reminiscent of the Middle Ages with a large dose of magic and uncommon creatures. In order to play it, you only need to download it.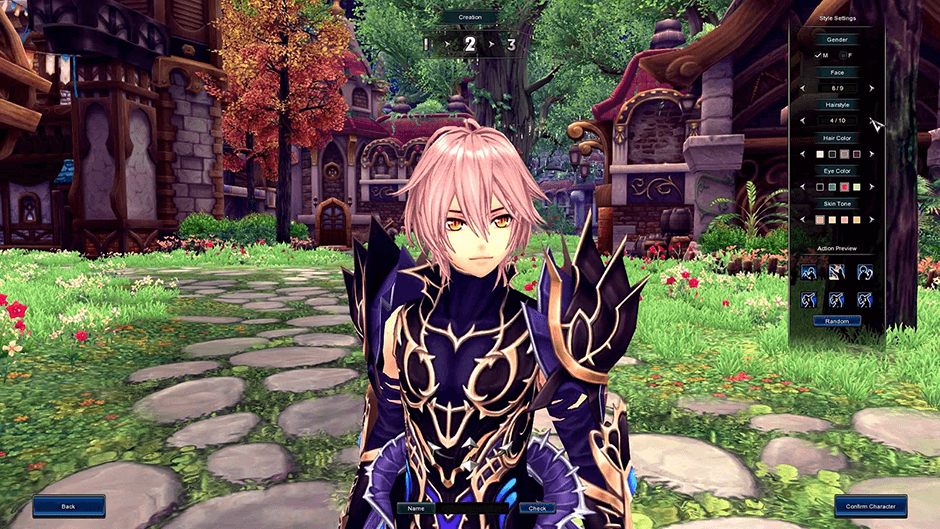 To begin his adventure as an Messenger of Gaya (a magical relic that is the center of the universe), the player will be asked to choose one of the fourteen character classes. Each of them specializes in wielding one type of weapon, so it's worth to think in advance, which corresponds to the style of playing we expect. We will be doomed to this class until we reach the 40th level of experience, after which we will be able to choose the second subclass, from those that remained from the initial choice. We can choose from these character classes: Guardian - swords and shields; Ravager - axes; Duelist - two swords; Gunslinger - pistols; Grenadier - guns; Bard - harps; Wizard - wands; Sorcerer - grimuars; Brawler; Ranger - arches; Ronin - katanas; Reaper - scythes; Holy Sword; Shinobi - shurikens. So we have quite a big choice.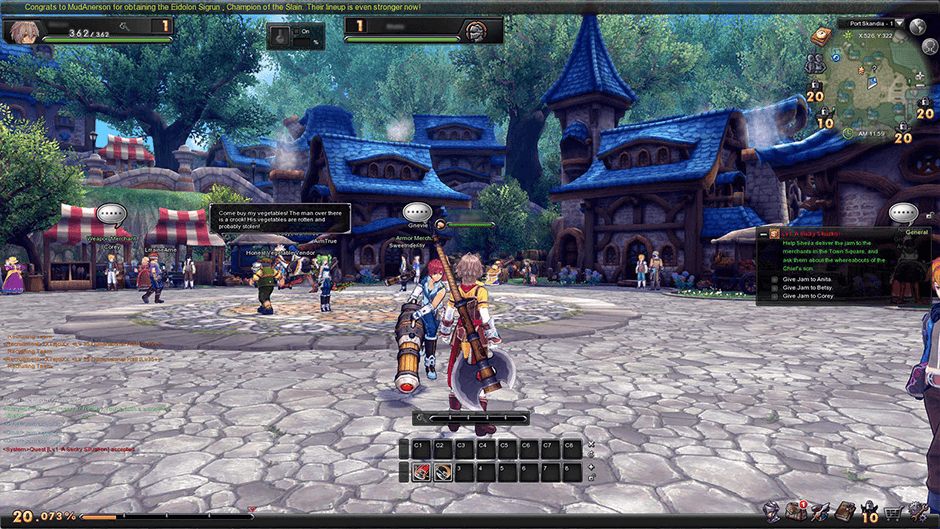 Immediately after choosing your first class character, we will also have to choose our first Eidolon. This creature will be our first companion on the journey, and we can choose one of the four. It's worth noting that Eidolons share some of their statistics with the player, so it's worth taking an interest in one that will naturally complement our expected playing style. Of course, along with the course of the game we will have to recruit more creatures.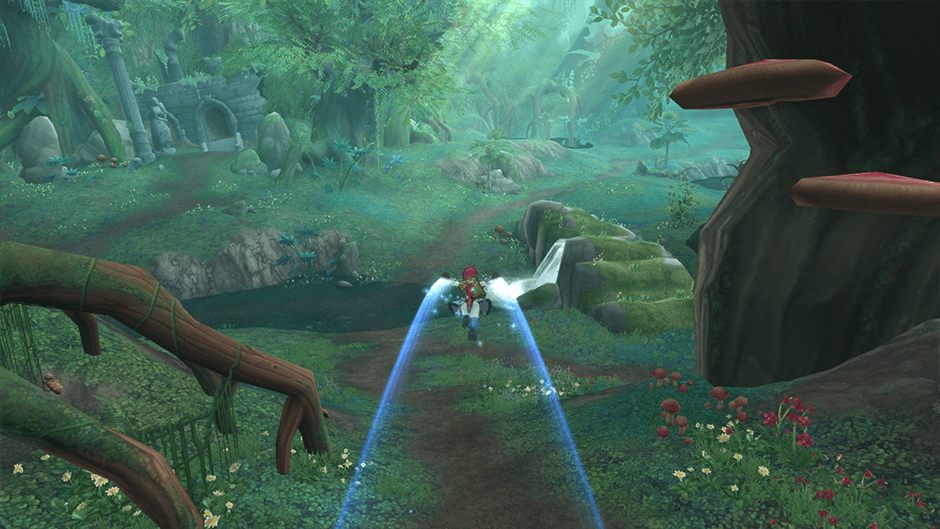 At the end of character creation we still have to customize our avatar according to every wish. We are put in front of a highly developed character creator who will meet the expectations of even the most demanding players. Thanks to a wide range of faces, hair or eyes - we can make our character similar to our favourite manga or anime character.
After all, we are transported to the game world, where at the very beginning we will get a quick instruction in movement and fighting. We cannot ignore it, because it is also a part of the story of our hero or heroine. Right after the tutorial and the experience of the "vision of the future", we load in the port of one of the cities of Azuria (the game world).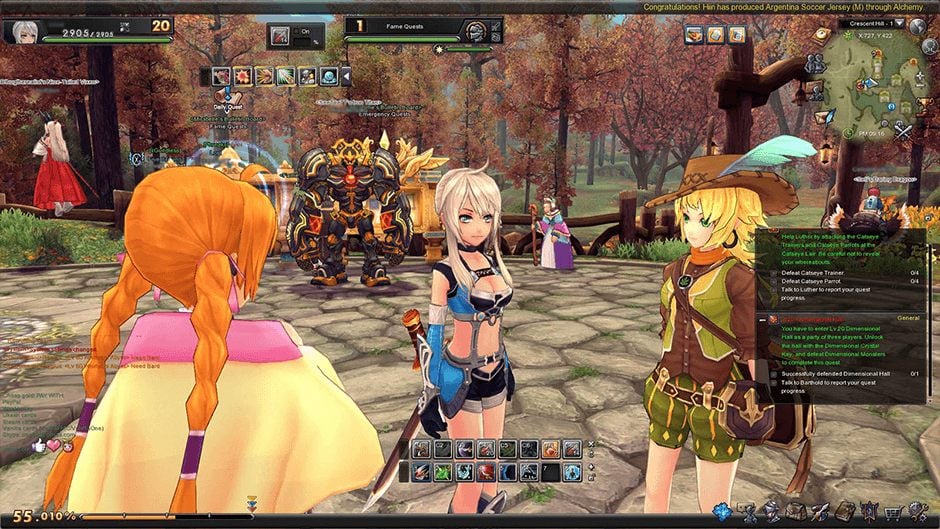 From the very beginning we can feel how huge and detailed the game world is. Without a shadow of doubt, it can be compared here to worlds known from such games as Drakensang Online or Aion, where the vastness of structures and environments is powerful enough to make our presence in this world seem unimportant at first. If it wasn't for the presence of a great automatic route mapping tool and a handy minimap, it would be easy to get lost even in the smallest towns and villages. These are teeming with powerful life, thanks to the presence of many residents dealing with their affairs, or discussing various topics. Players may even be tempted to eavesdrop on these conversations in order to gain important clues about the area or just laugh at grotesque situations. Add to this an incredibly atmospheric soundtrack and it will certainly add to the overall effect of the fantasy world.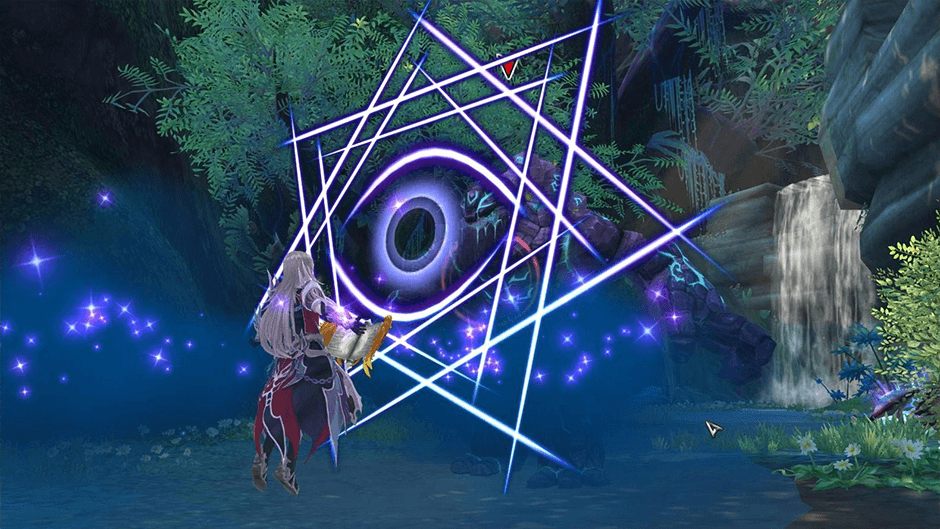 We can move around the world in several ways. In addition to walking, and the system of fast travel, we can also use mounts, which will speed up our movement around the world of the game. Another possibility is to use gliding skills, thanks to which we can travel by flight!
As in any other MMORPG title, Aura Kingdom will present us with a series of tasks that will lead us from one city to another, from one zone to another, allowing us to collect gold, equipment and, of course, experience points. These tasks, classically, will give us a specific number of opponents of a given type to defeat, or the need to collect specific items. It is through their execution that we will avoid unnecessary level grinding. Promotion to higher levels is therefore fast and very simple, unless we focus on searching for specific items, which can definitely prolong this process.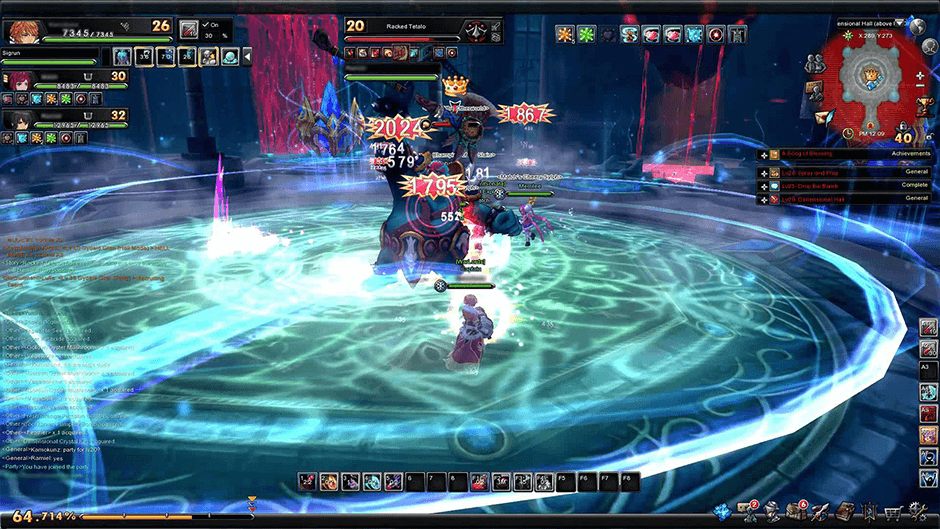 Tasks also serve as a story of the fight between good and evil. And although the story may seem a bit blurred, it is still very well written, which will surely encourage fans of the plot in MMORPGs. The whole thing is presented in English, but it is not particularly complicated, so everyone with at least a bit of knowledge of the language - should be able to cope with it easily.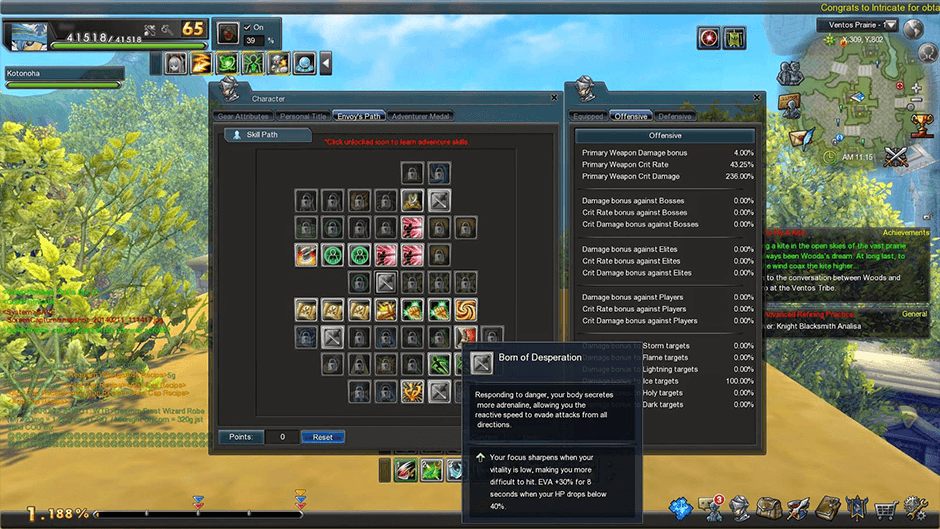 The combat system in the game is extremely fluid and rewarding. You don't just use the mouse as in many classic MMORPGs, but we'll also use the WASD buttons. Thanks to this we can fully and skillfully control our character on the battlefield, performing appropriate attacks, using skills and items, which is especially important in duels against other players. And although it may take some time for new players to get used to this combat system, after a short training the game will surely bring a lot of satisfaction. At times, the game requires from us very skillful fingers, so it's worth to put some effort. When fighting monsters in the game world, it will be important to pay attention to their behavior in order to dodge sideways or withdraw from the field of destruction at the right time. Each special attack performed by an opponent will be represented by a red marker on the ground, which will allow us to react appropriately if we are skillful.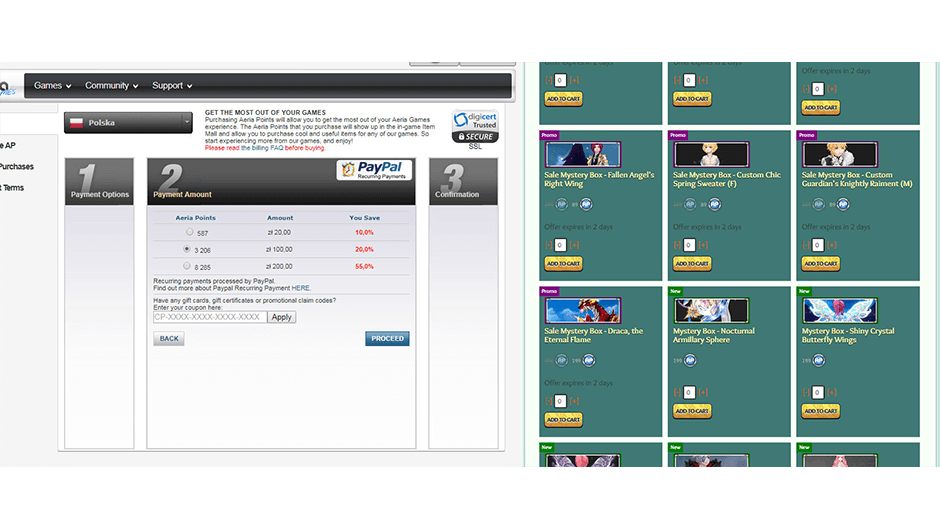 Eidolony, mentioned at the beginning, is a companion system in Aura Kingdom. These are all kinds of creatures and characters that accompany us in battle, and some of them can also be used as mounts. As already mentioned, at the beginning we will choose only one of the four Eidolons. The new ones will be obtained by performing appropriate tasks, as a loot from special enemies, through the system of achievements, and we will also buy them in the shop. At any given moment a player can only accustom one of these hobbyists, and he can have up to three at hand. It is worth noting that they are assigned to an account, not to characters, so that already gained Eidolones will be available on our other characters in the same account. In order to develop our companions, we have to collect appropriate crystals, which we will also acquire in many different ways (loot, craftsmanship, spending time with Ediolons). It is worth adjusting your Eidolones to the effects that you want to achieve (each of them specializes in different skills).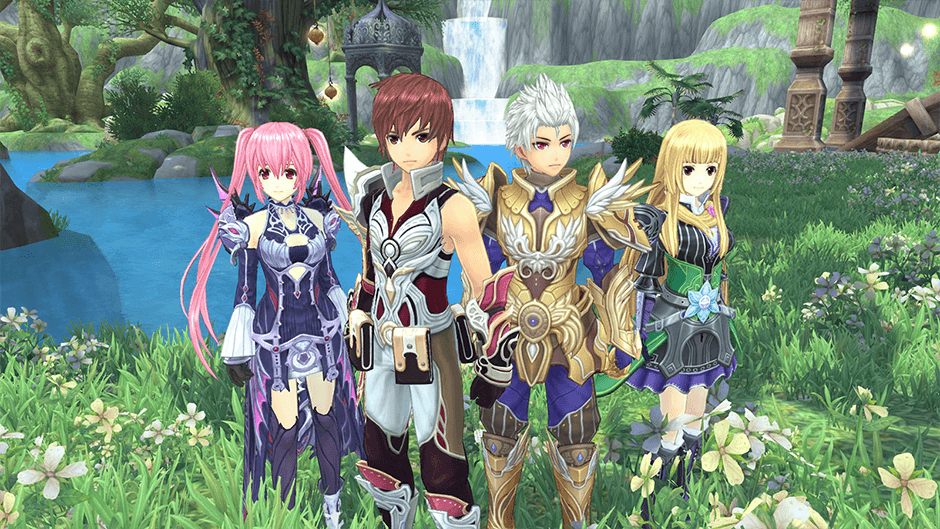 Finally, you should pay attention to the premium currency, which is here Aeria Points (APs), a currency that can also be used in other games of the same manufacturer, such as Twin Saga for example. In Aura Kingdom we will use these points mainly to obtain special Eidolones or many cosmetic items. The currency is not the cheapest, and many of the available items can be very useful or attractive. Interestingly, we can replace this currency with loyalty points, which we receive for daily logging in and doing special sentences. Thanks to that we will surely be able to get at least some of the desired items with ease.
Aura Kingdom is ultimately an incredibly complex, vibrant with its life MMORPG, in which we can want to spend hundreds of hours. This magical world is constantly updated, so the player will certainly find something interesting to do in it every day.
Few tips which will be helpful at the beggining of your journey:
Log in every day, especially on the home page of the game, even if you don't plan to play long. In return you can collect loyalty points to spend in the rewards shop,
It's worth spending some time practicing control - it will turn out to be crucial in further fights,
Try to save gold, your equipment is easy to get from regular loot and tasks. Spend it on potions and strengthening items,
By left-clicking on the available task window, it will start the automatic route procedure, which will lead you to your destination. Using the right button will indicate the target location on the map,
Collect all possible raw materials for your craftsmanship. To make it easier for yourself to collect, instead of tracking objects with the mouse, it is enough to use the ability to collect a given resource and our hero will get closer to the nearest possible point,
You can also interact with the NPC using the "F" button instead of using the mouse.