Create. Lead. Destroy. Repeat.
Massive amount of action is waiting for you! Create your own vehicle, which you will use to fighting with other players' vehicles, on all kinds of arenas. The goal is to destroy all of your enemies. Crossout is an extremely complex battlefield simulator in which not only dexterity counts, but also the proper construction of our machine. Head straight to the battle!
Crossout is another child of the famous Russian studio Gaijin Entertainment - known for such MMO titles as War Thunder, hailed as one of the best battle simulators of all time, or Star Conflict, a spacecraft combat simulator. This time we will land in the near future, in a world that is getting to grips after an apocalypse. Fans of titles such as Mad Max or Twisted Metal will find themselves at home here - because we will have to build our combat machine from scratch, so that we can fight against players from all over the world in a wide range of game modes available.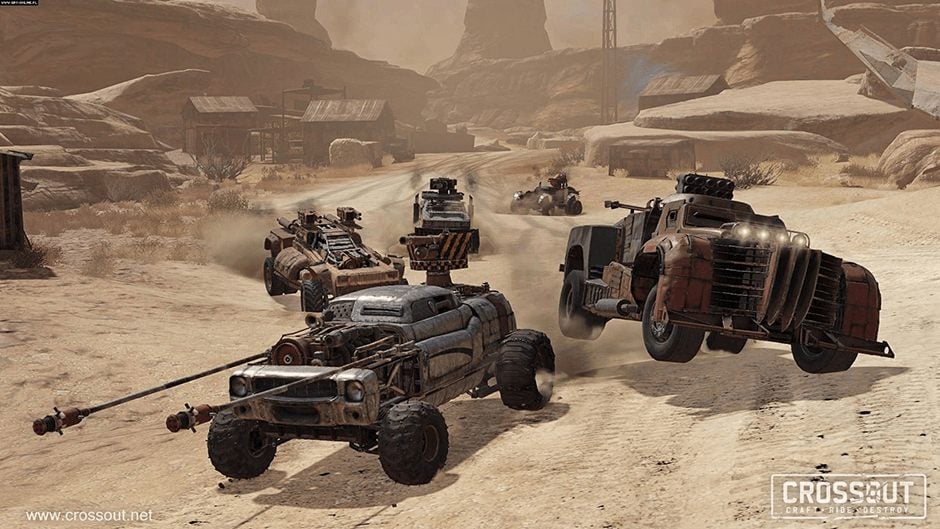 At the very beginning, after starting the game, we land in a large garage and at the start we get a low-level, slightly rusty vehicle. From this place we can decide whether we want to start the game right away, modify our current car, or browse the assortment of the shop in search of new, better parts to expand the vehicle. We can also have a look at the factions, to which we can belong, in order to receive special benefits, as well as see the gallery of vehicle diagrams prepared by other players. Important information available in the garage is also the amount of petrol in a given vehicle (without which we will not start the fight), the amount of available gold (which we will spend on new parts), the challenges currently available (containing valuable prizes), and many, many others, such as the gold we currently own, and the available fuel (used only in some modes).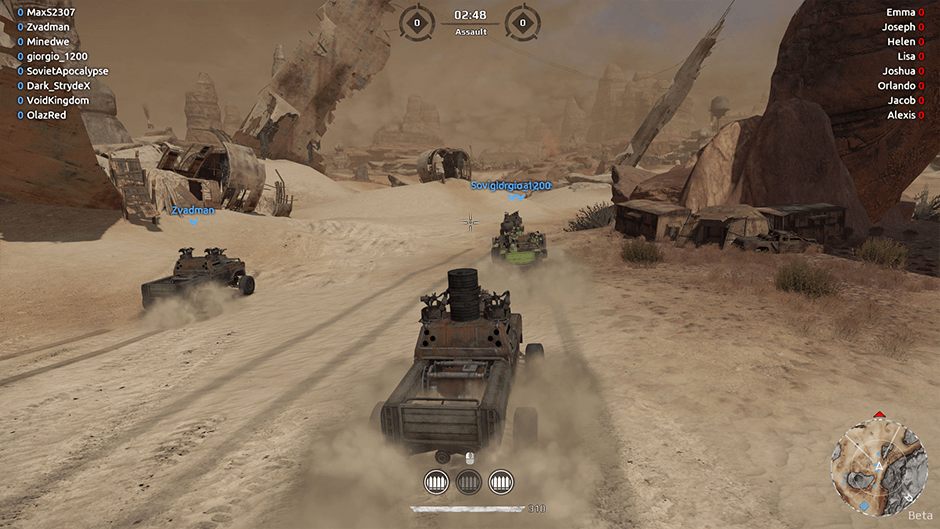 If you decide to start fighting, you can take part in one of several modes. The first one is Missions (Missions), which is a standard PvP duel in which 8 players take part, 4 on each side. In this mode, depending on the map drawn, we have to perform a specific task, such as taking over and defending a particular point on the map, or taking over the opponent's base while defending our own, or finally - simply eliminate all the opponents. Another mode is Raids, in which our opponents will be computer-controlled vehicles, and the tasks will include fighting hordes of enemies, patrolling and defending the zone, or collecting the right items on the map. There are also fights (Brawls), in which players fight against each other on special rules, not available in other modes. It is worth trying all the modes, because for their completion we get equal types of new parts to use. At the beginning we can only play against the computer, but already after reaching level 10, we can enjoy the opportunity to duel against live players.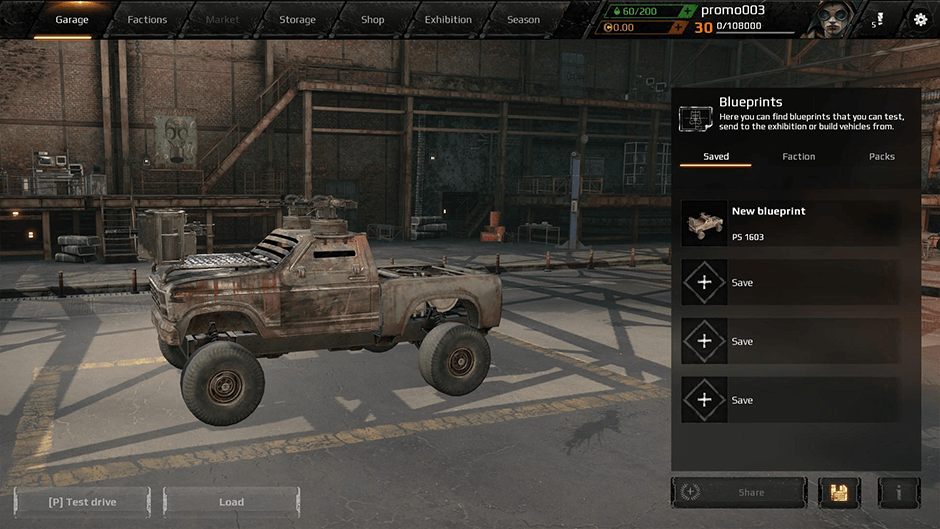 And since we're talking about parts, one of the most important elements of playing Crossout is an extensive vehicle creator, in which we can build from a small and agile jeep, through a big van with rifles on the roof, to huge trucks with lots of guns. Ultimately, we are limited here only by our imagination - we can create any land vehicle that comes to our minds. We have countless armour, body types, firearms, rocket or white weapons in the form of blades, saws, drills, etc. We are able to use them. There are also different types of wheels, and even spider webs of legs instead of them. We will also have plenty of additional equipment at our disposal to help us on the battlefield, such as tracking systems, optical viewfinders, and even a mechanism to help us get back on the wheels when our vehicle overturns. And let's not forget the hundreds of decorations that we can put on our vehicle. Admittedly, at the beginning of the game we will not be able to use all the parts, and also our vehicle will not be too big. However, over time and with the development of our account - we will have access to a wider range of available parts and the ability to place more of them at once.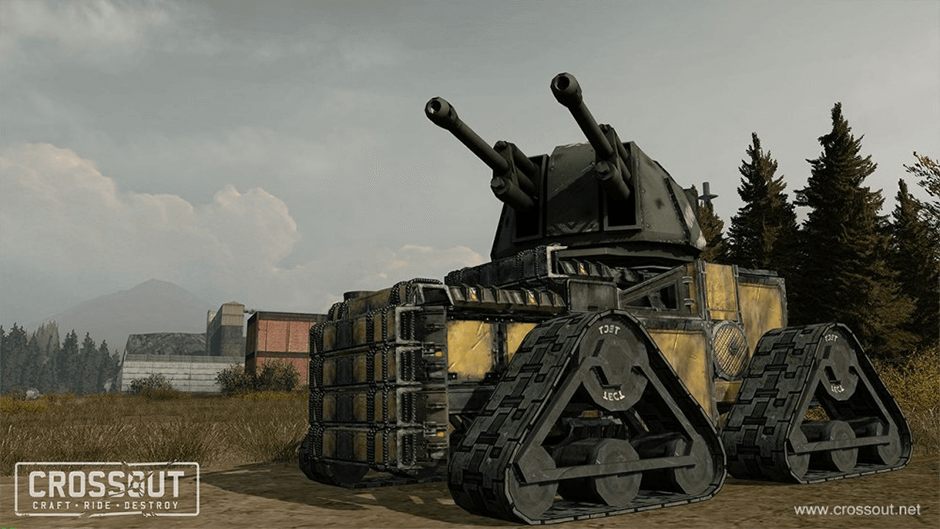 It is worth knowing that the selection of appropriate parts in our machine is extremely important, because each of the parts has its own statistics, advantages and disadvantages. Regardless of everything, we must always pay attention to whether our vehicle has adequate grip and how much it weighs. In short, a badly constructed vehicle can easily tip over and at the same time become an easy target for enemies. It is worth remembering that the heavier our vehicle is, the slower it will move and the harder it will brake at the right moment. So we have to think about the right choice of wheels (each of them has a different maneuverability), even distribution of the weight of the vehicle (so that it does not tip over when turning), with the most solid armouring it and distribution of the right kind of weapons.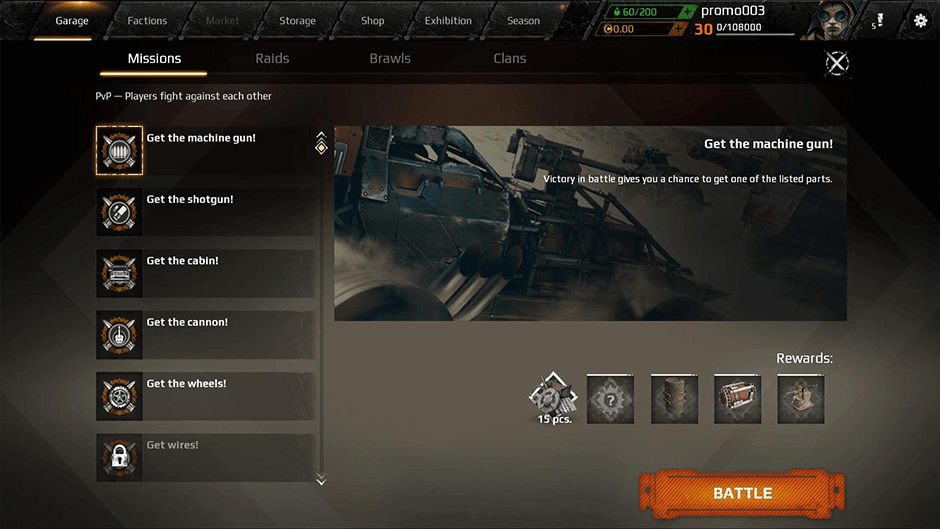 Each of the parts placed on the vehicle can be destroyed during a duel and lead to loss of mobility or attack. The armour itself is therefore extremely important, as it protects not only our engine and cabin, but also all weapons and even the wheels. After constructing the whole combat machine, we can test it on the firing range and check whether it meets our expectations. At the end, it is also worth decorating our vehicle with all kinds of lamps, skulls, exhaust pipes - anything that will catch our eye. This not only has an aesthetic value, but also affects the number of experience points, which we will get at the end of the duel with the use of a given machine.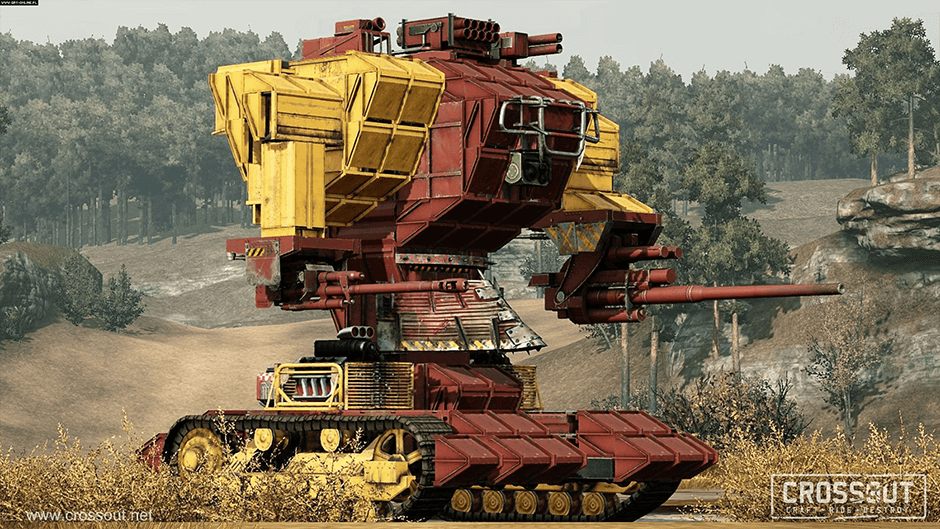 The easiest way to get new equipment and vehicle elements is to visit the Market. What is interesting, this is not an ordinary shop, but a completely run by the players fair zone. In short, all purchases as well as sales take place directly between players, as is the case in many famous MMO games (often called auction house). We can buy not only ready-made weapons, but also elements and subassemblies, thanks to which we will be able to produce the equipment ourselves.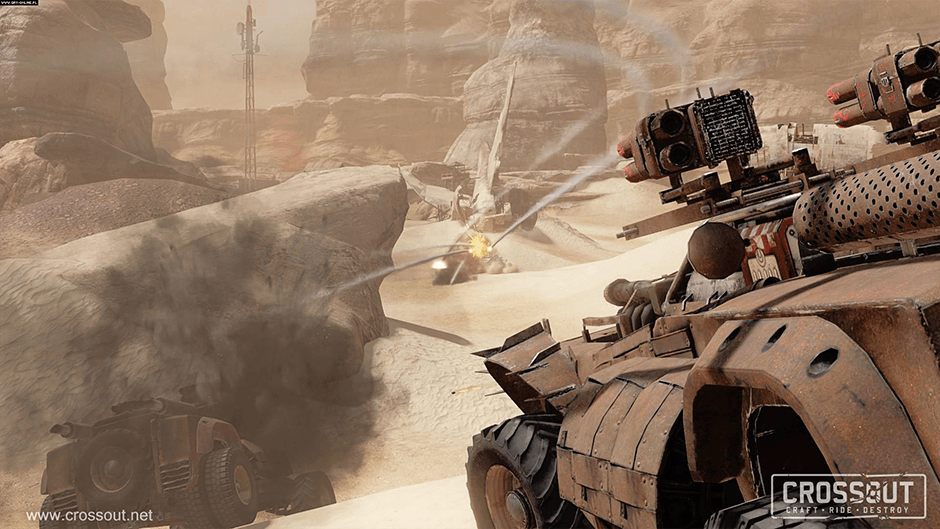 In addition to buying parts thanks to the acquired gold, we can also manufacture most of the elements through a special panel. Performing appropriate tasks and taking part in appropriate missions, as well as through the previously mentioned market - we will obtain the necessary materials, which we can soon use to create the dream vehicle elements. The objects themselves will also be divided into different types of quality, where Base will be the most basic and Relic will be the highest possible. Therefore, in order to be able to produce elements of the highest quality, we will have to deal with more and more complex challenges. It is also important to know that the production of new components also requires us to wait a reasonable amount of time, usually up to a few hours of real time, before we can use the new part. Therefore, it is worth planning our products in advance, so that we do not waste time and raw materials.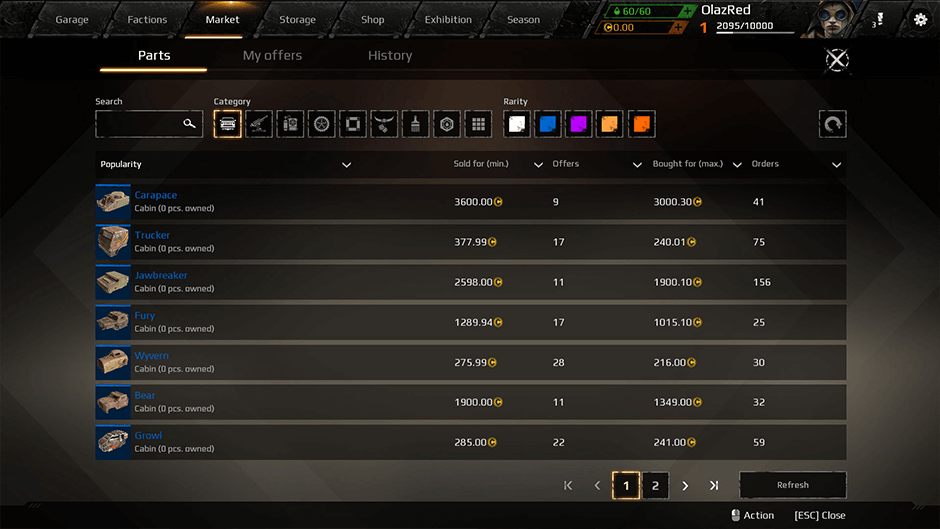 However, if we do not feel we are too familiar with constructors - a big convenience is the possibility of using vehicle diagrams developed by other players. Such ready-made vehicles can not only be disassembled into first parts in order to learn something new about the design, but we can also freely modify them and adapt them to our own needs. Ultimately, if we have all the parts included in the project - we can use it at any time. It should be noted that many of these social constructions will not find a combat application, but we can always test for fun everything that only catches our eye, which can often lead to comical situations on the battlefield.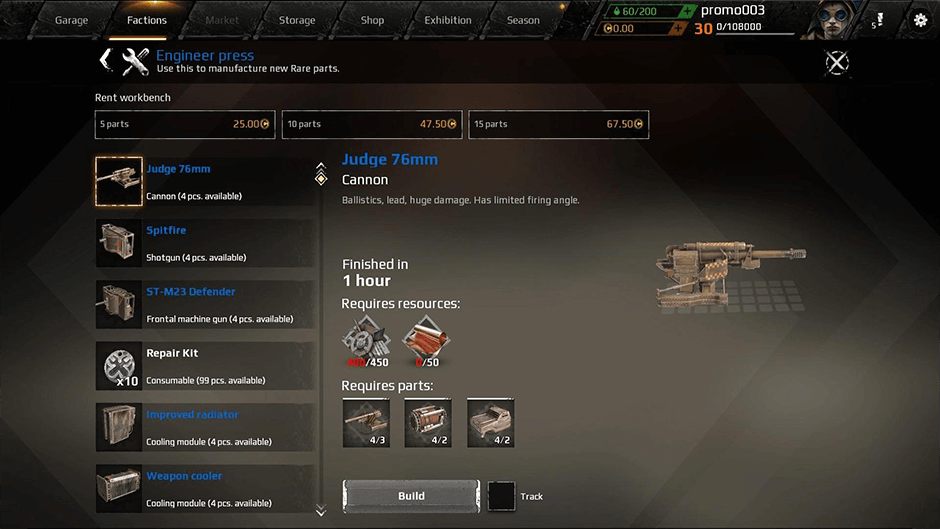 With regard to the issue of the factions, this is a key element of development in Crossout. At the beginning of the game, everyone lands in the neutral Engineers faction, but with time and account development, we will have to join the others. So, after reaching level 10, we will be able to join one of the three available, and after level 25, the fourth faction will also be unlocked. Membership in a given faction has a key impact on the availability of vehicle parts, because depending on our choice - the access to the elements possible to produce, mainly related to the style of play represented by the faction, will also change. We have a choice: Lunatics (speed and high alpha damage), Nomads (balanced arsenal and good mobility), Scavengers (strong armor and powerful guns) and Steppenwolfs (the most powerful weapons with high statistics). After joining one of them, we will be able to gain a reputation by winning battles. The higher the reputation, the wider our access to the assortment of a particular faction becomes.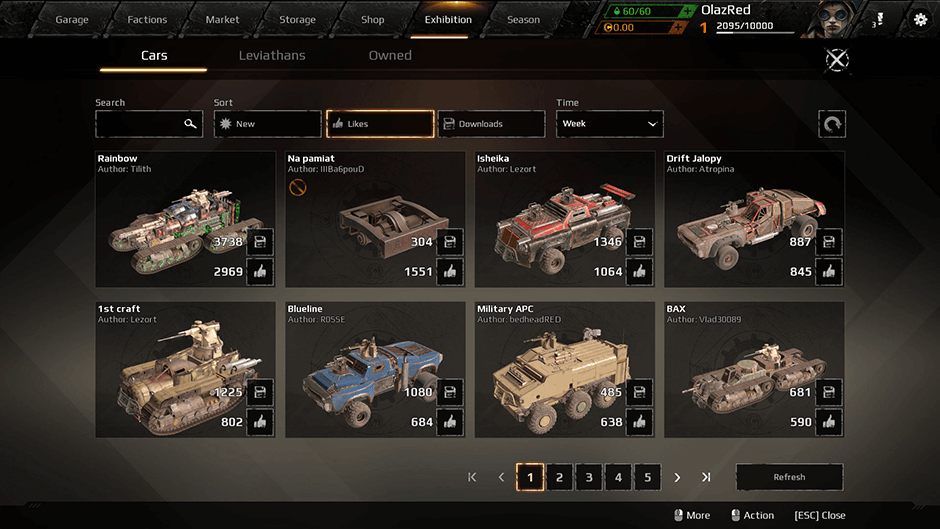 As this is an F2P game, there also is a micropayment system. If you want to unblock individual items faster, you can buy the missing gold with real money. We can also buy ready-made packages of vehicles, along with parts and decorative elements, which we can later use in our own projects. Often these ready-made packages contain a really solidly constructed, powerful vehicle, ready to play. This does not mean, however, that we will not be able to build a similar vehicle on our own. In short, micropayments can definitely help us to expand the vehicle, especially at the beginning. However, they are not necessary for everyday play in the game.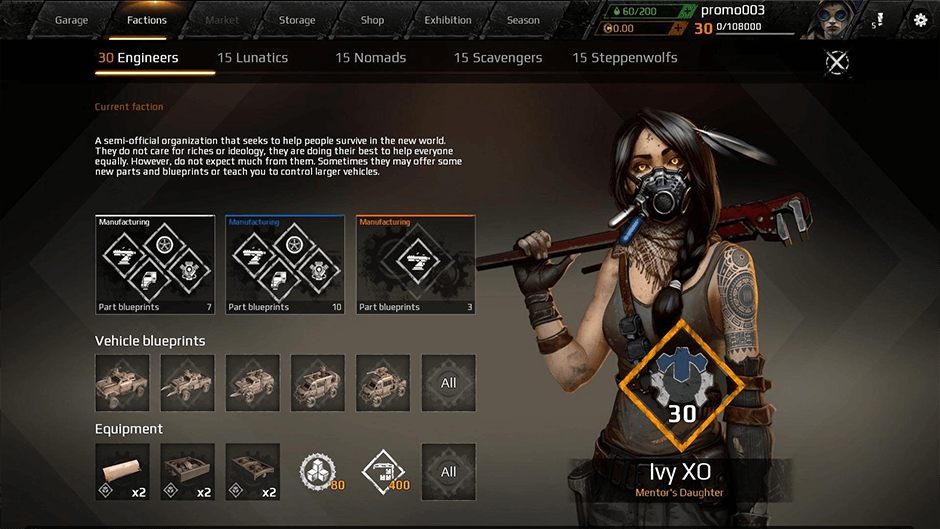 As befits a game from the creators of War Thunder and Star Conflict, Crossout is an incredibly powerful and addictive title that will surely bring hundreds of hours of fun, adrenaline and challenge to all fans of duels on the battlefield. Domestic machine builders will also find their abutment here, because a more extensive creator of building your own vehicle, in a free downloadable game, you will not find anywhere else.
A few useful starting tips:
Always try to move around in a group during duels in the early stages of the game. This will definitely increase the chances of winning in a weak initial vehicle,
Log in every day, even if you don't plan to play - in return you will receive various useful items,
Pay special attention to tasks and challenges - this will allow you to develop quickly and acquire the desired equipment,
Also take part in seasonal tasks (Seasons tab) to receive even more valuable prizes. These are divided into three difficulty levels, so you can choose the one that matches your current capabilities,
Remember that you have a limited amount of fuel to perform certain tasks. Fuel is renewed daily and can be refilled by buying fuel canisters,
Plan in advance which items of equipment you want to have, and then build up the right parts for your own construction. This will require you to choose the appropriate game modes, or buy these items at the marker,
Remember also that creating parts yourself takes time in the real world. That's why you should plan your activities well in advance,
If you have no idea for your vehicle - you can always search the database in the "Blueprint exhibition" tab, and then use and freely modify each of the machines built by other players,
Find out which fraction best suits your playing style and then join one of them to make the right profits. In the future you will also be able to change faction membership with much greater ease.