Online Airport for all the Tycoon fans!
There are less and less genuine economic games. The once popular Tycoons and the SimCity series are now just a faded memory. There is no title that would draw us in as well and require as much economical sense. Skyrama from well-known studio - BigPoint - successfully fills this gap!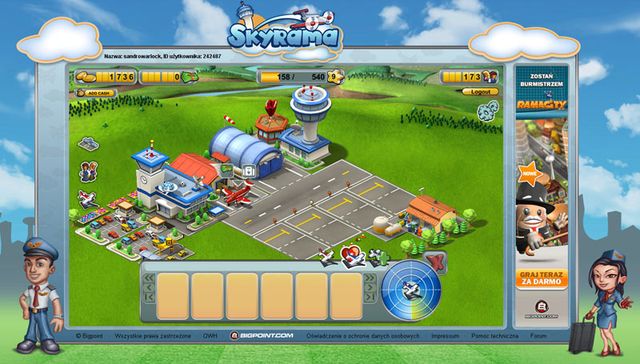 Skyrama is a browser economy game that does not require any additional applets or instalation. The main goal here is to run your own airport. Starting from a tiny runway and a small hangar, we have to create one of the biggest airports, capable of sending hundreds of people to all European countries every day. The task is surely not the easiest thing! In the game, of course, we will find intuitive tutorial and in-game advisers at our disposal, who will help us to take the first steps as the director of the airport.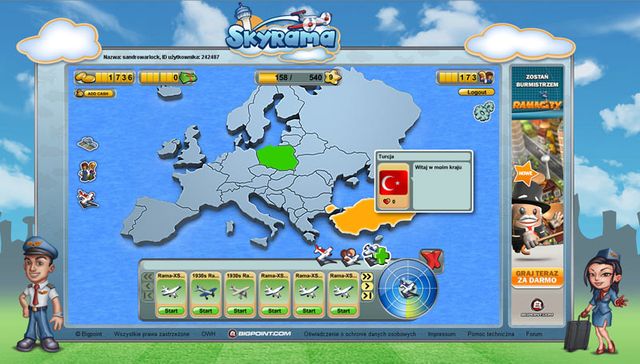 At the beginning, our main source of income will be airplanes directed by AI, which has a kind of watch over the whole world of the game. We have to refuel and reload the luggage of each plane that visits us. In return we will earn virtual cash for the service. However we should do it quick, because if we are too reluctant to service the plane, the money will be lost! After servicing several machines, we will realize that we can afford our first airplane – that's when the real fun begins!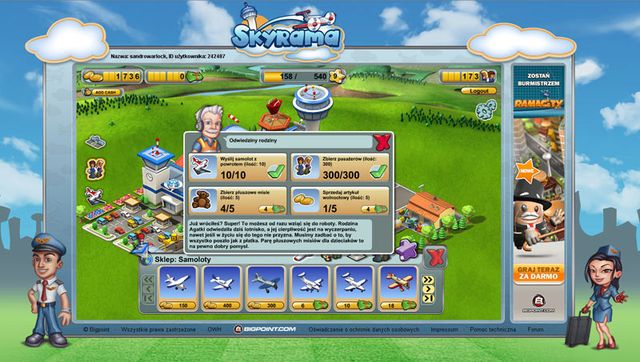 Having our own machines, we earn not only more money, but also gain experience points and souvenirs. We can exchange souvenirs for several things like, for exemple, passengers. Thanks to experience points we reach next levels, which allows us to expand the airport more and more. Therefore, we gain access to larger passenger planes, stylish machines from the first half of the 20th century, as well as cargo planes. This is not all, of course, because in addition to airplanes at our disposal the game also gives us bigger runways, additional service boards, larger hangars, parking lots, hotels, fuel tanks and much, much more! Along with the expansion of the airport more potential passengers are visiting it, which forces us to send dozens of planes around the world. This, in turn, provides us with funds for the next expansions of the airport, which gives us even more passengers! As simple as that!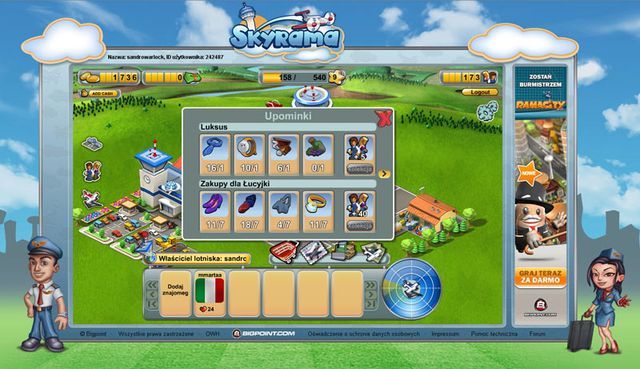 It is very satysfing to watch the airport literally blossom in front of our eyes. However, this does not happen in the blink of an eye. Airplanes need time to reach their destination, the runways and control towers are expensive and to expand them you will have to earn money for some time. This small problem can be solved in two ways. First of all, it is worth sending planes to friends who also play Skyrama - thanks to this, we will get more income quickly. Secondly, you can always buy virtual currency to speed up the game. Regardless of which of these options seems more attractive, we recommend you to try Skyrama! One of the best economic browser game around. Great fun guaranteed.