A browser game for all the hack'n'slash fans!
Drakensang Online is a free MMORPG available in your browser. It is based on the Drakensang series, similar to games such as Diablo and Path of Exile! Slash through hordes of deadly monsters, gather with your friends and become the real hero!
Drakensang Online is a game based on the popular The Dark Eye universe. It combines elements of genres such as MMORPG and hack'n'slash (mechanics mainly known from Diablo series and Path of Exile). It is characterized by excellent – not just for browser games – graphics, a huge number of complex quests, well-balanced gameplay and very high playability of individual classes. This free game is addictive from the first minutes spent on the server – you will spend on it long, long hours. This is a great alternative for expensive paid games of this type.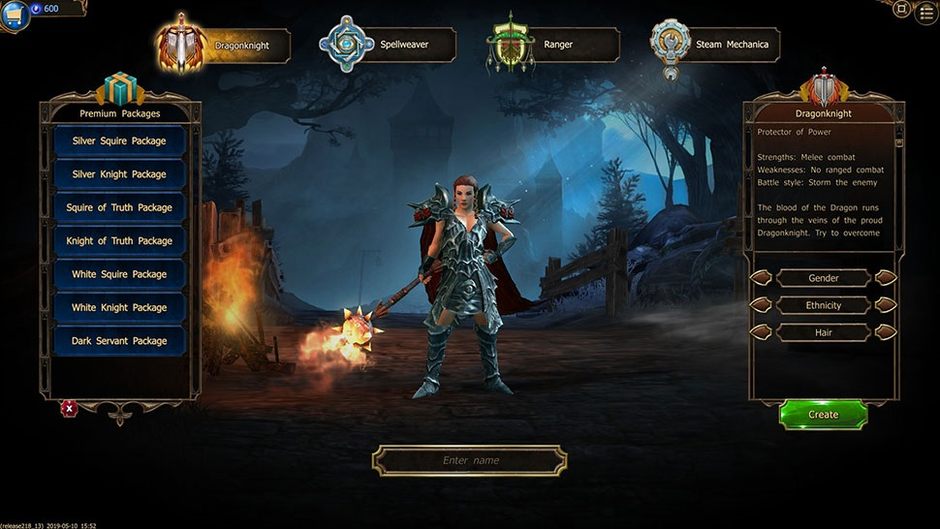 The first thing we do after logging in is choosing the appearance of our hero and its class. As often happens in the case of MMO games, we can choose from a few predetermined customization options. However, what will ultimately determine our gameplay is the choice of the class. The developers have prepared four of them:
Ranger – a deadly archer attacking with powerful attacks from a distance,
Steam Mechanicus – uses powerful inventions,
Dragonknight – a melee specialist,
Spellweaver – a mage familiar with advanced elemental arcana.
After making this (seemingly easy) choice, we will be able to move on. We are welcomed by a short, intuitive tutorial created in such a way as to quickly introduce a new player to the game world and the rules.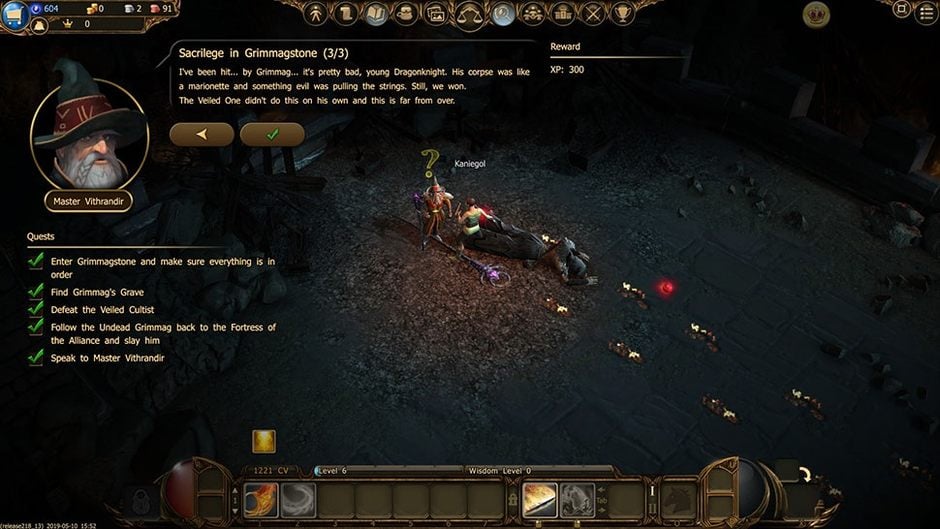 The basis of the gameplay will be – typically for hack'n'slash games – the annihilation of hordes of monsters. The fight here is incredibly dynamic and at the same time (thanks to the number of customization options of our hero – more about this later) very entertaining. However, don't let the hack'n'slash mechanics trick you. Quests play a significant part of the gameplay – both story and side quests. The story-related – as the name itself indicates – push the plot forward. Thanks to them, players who aren't familiar with the universe of The Dark Eye will be able to get to learn more about it and get immersed in the world of Dracania. Side quests are a great break from grinding experience. Complete them to get a significant number of rewards, both gold, and items. It can be said that the quests and the fights are the basis of the gameplay... until you reach the maximum level.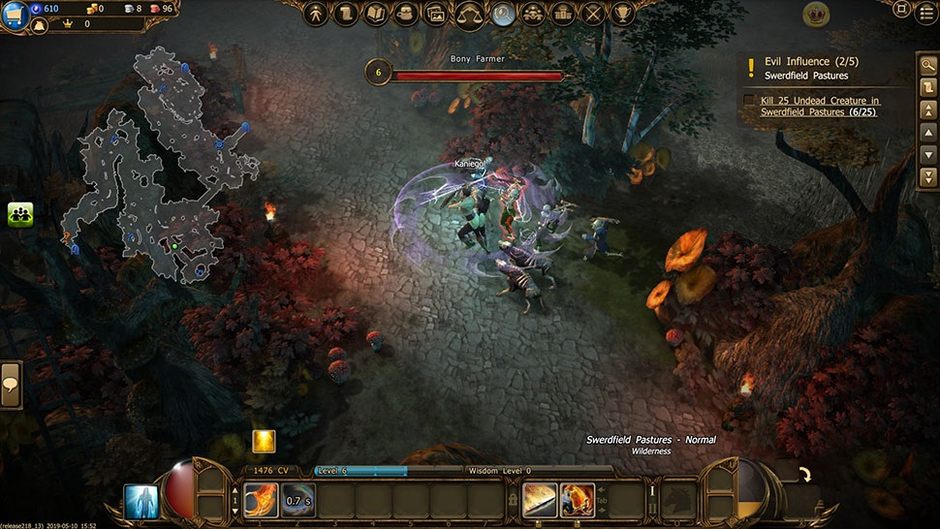 The majority of your time with the game will also be character development. This system can be called quite classical. Besides acquiring, crafting and improving parts of your inventory, you will also develop a skill tree by using talent points gained along with subsequent levels. Basic skills are assigned to our character after reaching specific levels of experience, but more advanced development will depend only on us. This is a good moment to mention that experimenting with our build is perfectly appropriate because the talent points can be reset at any time without any consequences! Back to the inventory – you also have to remember that basic items with better stats aren't always better than passive bonuses granted by rarest items!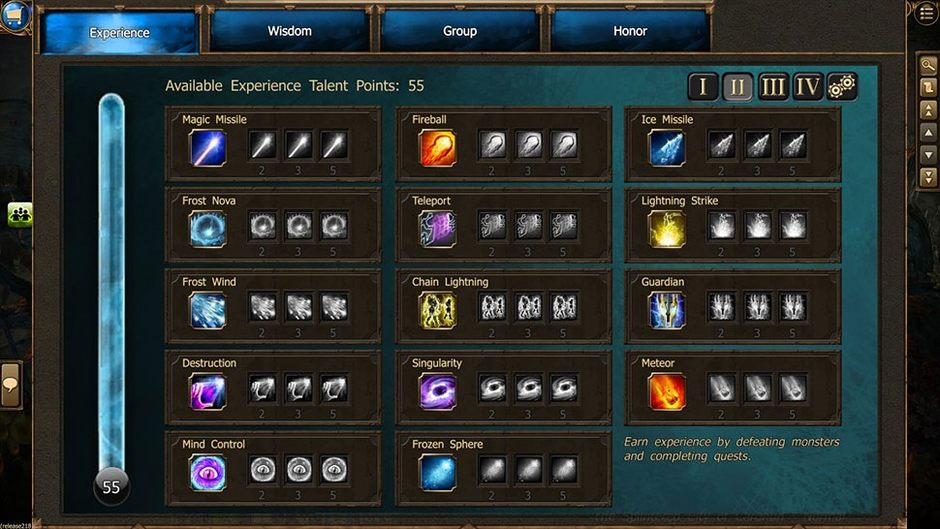 A little earlier I have mentioned reaching the maximum level of experience, which would be equivalent to the starting a phase called the "Endgame". It changes the specifics of the gameplay. Destroying monsters to gain experience points isn't important. The PvE mode in which defeating rare bosses and getting precious items is something obvious for a hack'n'slash, however, Drakensang puts a great emphasis on... PvP! This decision is a breath of fresh air in a somewhat stale genre. Fights taking place in the open world are the basis of player versus player battles. However, there are two modes that will interest players the most:
Solo PVP – a duel where we face other players alone and defeat them to earn points,
Team PVP – Deathmatch – team battles in which our team has to work to eliminate other teams.
Our individual and team achievements will be marked in a special section of the results called Leaderboard. It is also worth mentioning about the unique events coordinated by the developers themselves, which are held very often!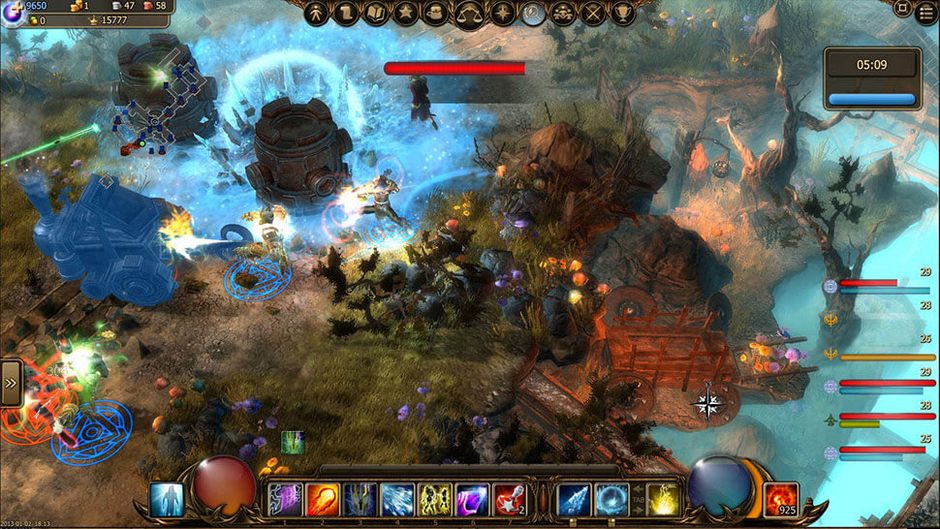 Drakensang Online is completely free. This means that, like in other free-to-play games, we will find a shop offering premium content. Don't worry, you won't find any items that can be categorized as P2W (pay to win). The most important ones are cosmetic items (affecting the unique appearance of our character), mounts, pets, potions, etc. Some of them grant small passive bonuses and boosts for our heroes, but they do not affect the balance of gameplay. Moreover, the developers have also prepared the so-called Daily Deals that help those who play without paying to get additional content much easier.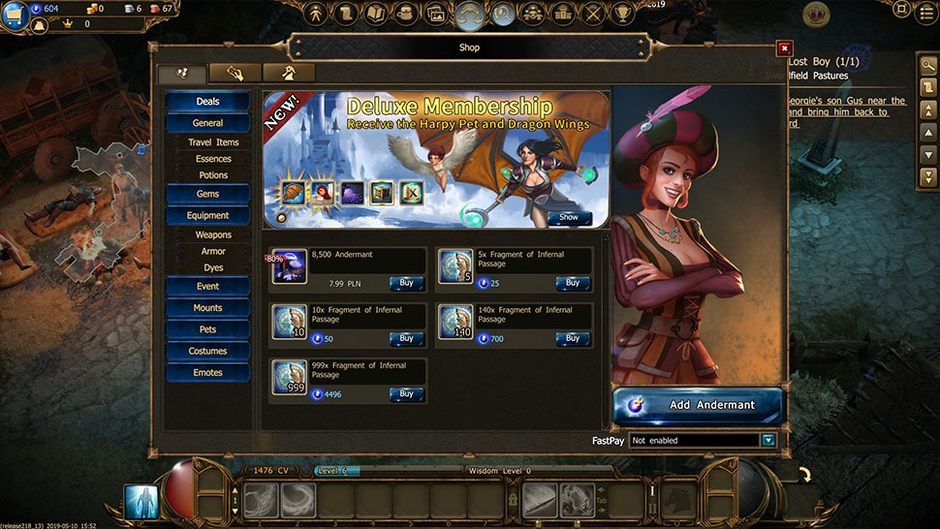 Drakensang Online is great not only for fans of The Dark Ey universe but also other games such as Diablo and Path of Exile. This is a full-fledged hack'n'slash, which is no different from its desktop "cousins". What's more, the game has a large community that creates a forum and Wiki page dedicated to this game. The game is completely free and allows everyone to start playing, without any exceptions. In addition, the quality of products is evidenced by the fact that its publisher is Bigpoint studio. If you are a fan of dark fantasy and online games – this title will be perfect for you. Check it out!
Here are some starting tips:
Positioning in fights is incredibly important. The use of skills does not mean that the character will automatically approach the enemy – we have to manually stand next to the enemy,
Don't be afraid to experiment with builds – talent points can be reset at any time without consequences,
The game compares in real time the newly acquired items and those that are currently worn by our character. Thanks to this, at the beginning of the game it is easy to change the equipment without going through dozens of statistics,
When you explore the lands on your own, the game will display automatic notifications about getting invited to a group (in the left corner of the screen). Join a group of players to complete difficult quests together,
Complete daily challenges to earn valuable rewards,
Thanks to Daily Deals in the shop, you will be able to spend less on premium items.