Puzzle RPG for mobile devices!
Heroes and Puzzles is mobile RPG puzzle games from Aeria Games studio, in which we are transported to fantastical realm of Runemoor, where we are given task to defeat increasingly powerful enemies to become runemasters - the only people who can defeat evil sorcerer.
Mysterious runes are the basis of the game. Just after logging in for the first time we will get straight into the tutorial and than to the board full of runic stones that... are used as a fightning tool! This system replaces the classic skirmishes known from RPG and jRPG games. Our task is to fold the same type of runes into groups, which fill our energy bar more and more, and when its indicator reaches maximum - we make an attack. This kind of game requires a lot of tactical sense and a good eye to see through opponent moves! Besides this unusual (and insanely engaging) combat system, the game offers a lot of other solutions known from role-playing games. As the game progresses, we get to unrevel the storyline, develop our hero, loot the equipment, and recruit team companions (this system is known mainly from Japanese RPG games).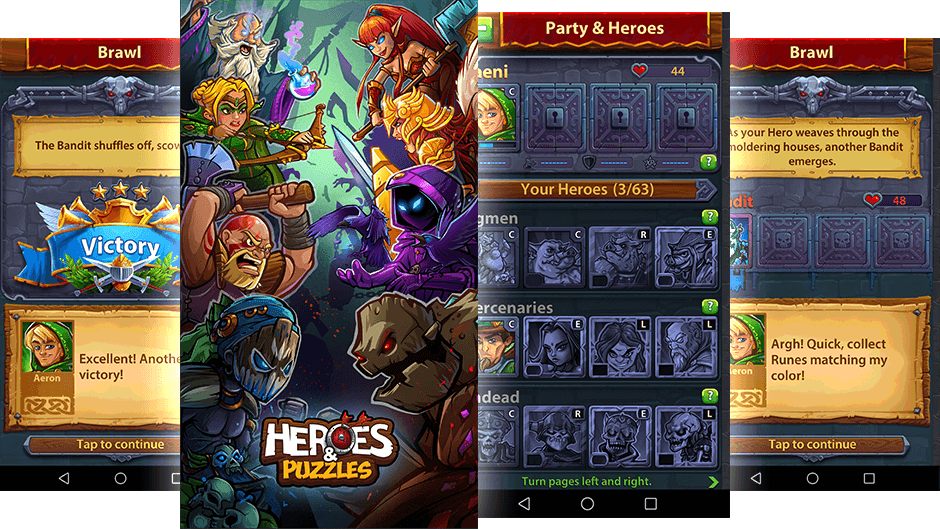 The game offers us dozens of heroes from which we can choose our four-person team. The selection of heroes in relation to their advantages and disadvantages will often affect the course of skirmishes. Itís worth thinking about which characters will be best match to easily get through the fights! The same applies to the acquisition and upgrading of the equipment. Plan your character's development well. In addition to the main storyline, the game also offers PvP system, which will allow the players to test their fighting skills against the most demanding opponents, which are us! Of course, the best enchanters will be listed in the game ranking!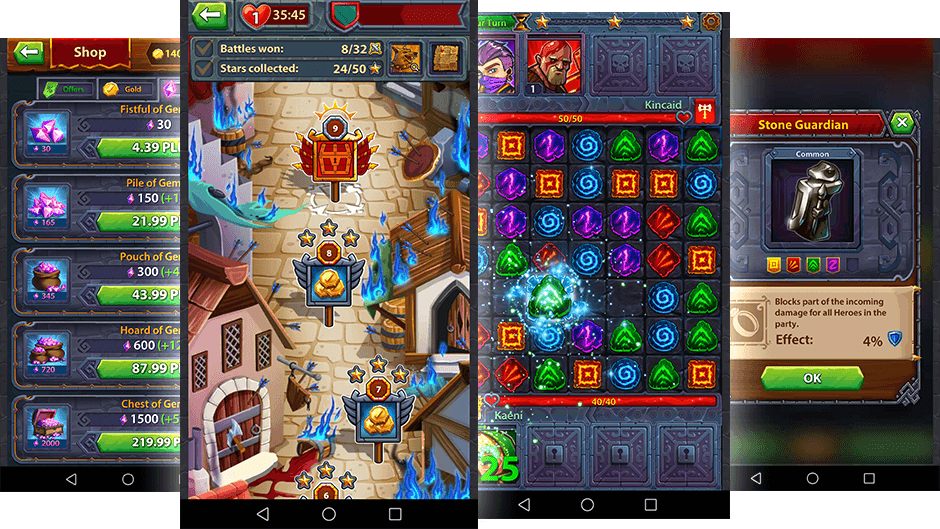 Heroes and Puzzles is a free game, which is why there is in-game shop where we can buy XXX. Itís a premium currency which allows us to speed up some basic mechanics of the game. It is a perfect solution for all the impatient players! However, if you do not want to spend real money on the game - no problem. We can "reach" every stage of the game for free and it depends only on the time we devote to the game.
In conclusion, the Aeria Games production is a great proposition for fans of RPG gameplay who are looking for something new in the genre. Addictive combat system, interesting heroes and a very intuitive gameplay make Puzzle and Heroes may compete with the titles known from our desktops!