Design your own horse stud and equestrian center!
Horse Farm is a mobile simulator, in which the title horses play the main role! We will become head of the horse stud and control it's way to the top of the horse world. We decide here not only about its development strategy, but also the development of professional infrastructure. Breed majestic species of horses, take care of your four-legged pupils and stand in fierce tournaments!
After the first launch of the game, we're greeted by intuitive tutorial, which perfectly guides us through first minutes of gameplay. Its purpose, of course is presentation of basic mechanics of the game and teaching of simple strategies. Thanks to the tutorial, we'll build our first buildings, learn how to navigate the menu, greet the guests and buy our first horse. After finishing tutorial, we'll gain access to quests that will guide us in further development of the farm.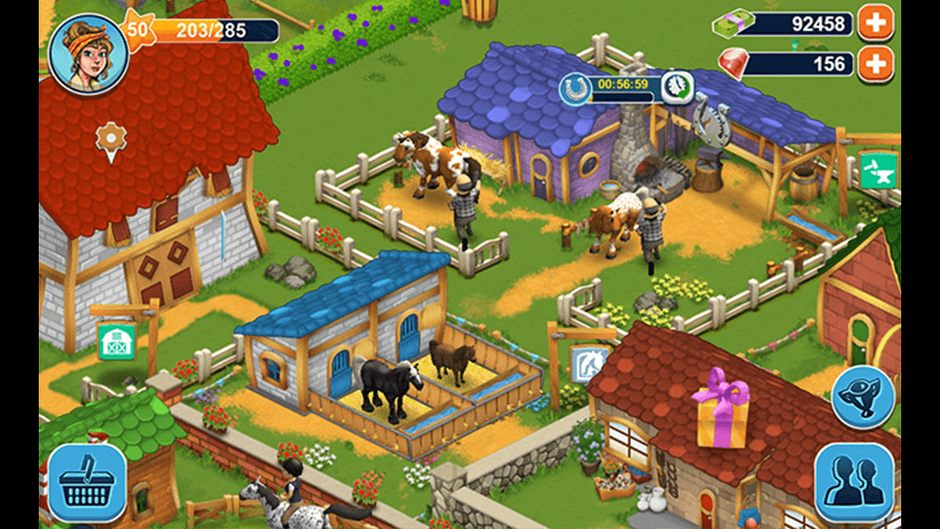 After we acquire our first gorse, we'll plan development of the stud. One of our objectives will be providing animals with the best "housing". We'll take care of the stables, menageries, paddocks etc. The better our financial situation, the more animals and horse breed we can acquire, such as:
Appaloosa
Shetland pony
Arabian horse
Hanoverian horse
Clydesale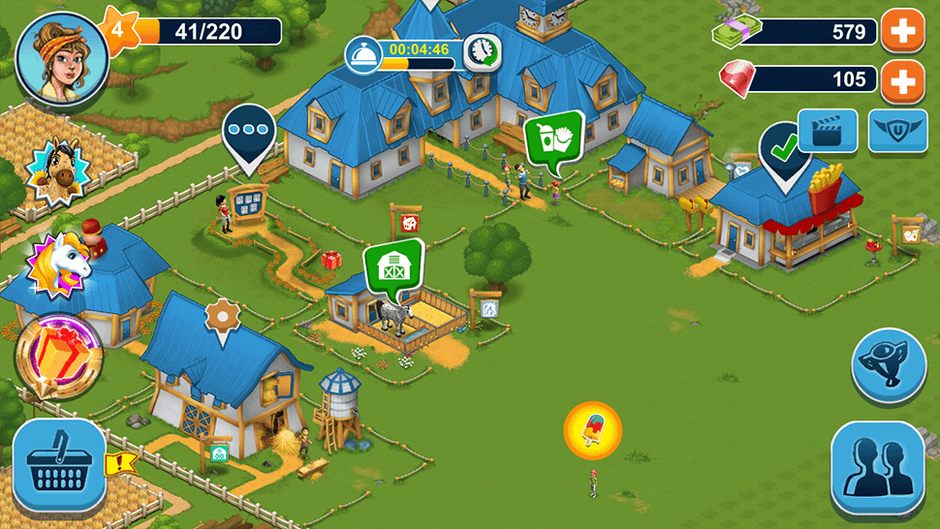 Second aspect of our facility will be taking care of our guests and personnel. Guests – as the name suggests – are NPCs who visit the stud. The better care we take of them, the more virtual money they will spend, allowing us to develop even further. The guest infrastructure is very important. Hotels and restaurants are essential, and without them our facility will not function. On the other hand, personnel are our employees, who oversee everything.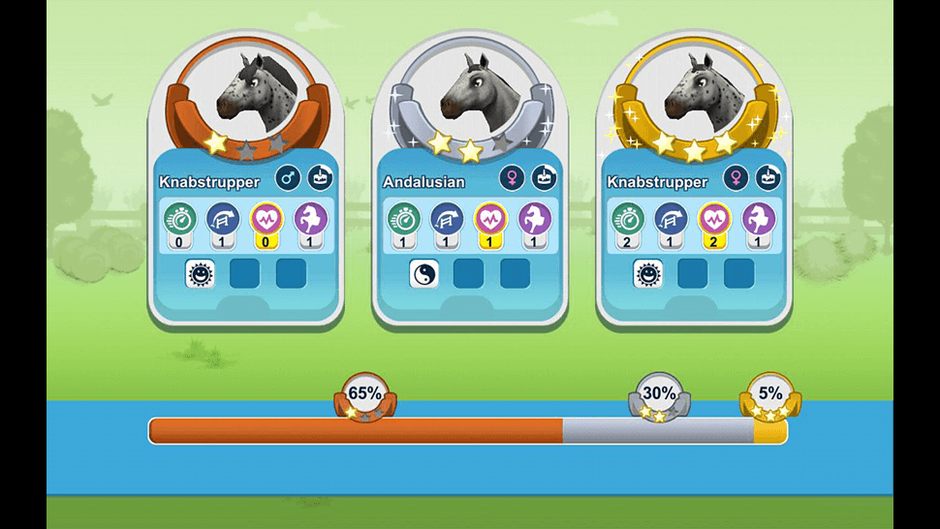 Creators have also added some social options to the game. Horse Farm allows us to recruit our friends and cooperate with other players. We can trade experience, and visit their studs to observe their strategy of development. It can be helpful for newer players, who are just starting their adventure with the game. It's also worth mentioning, that game community is really supportive and open to help newcomers.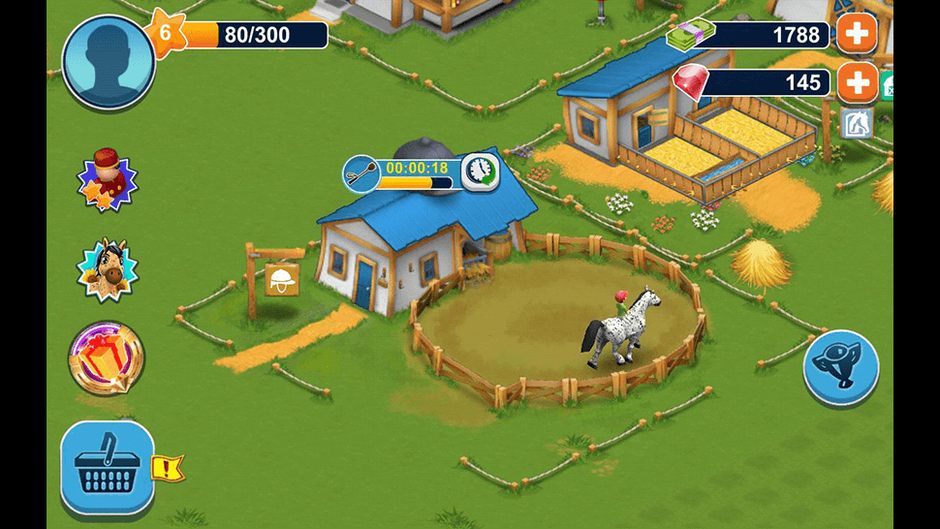 Game is based on Free to Play model, which is the reason we'll find a currency shop in-game, selling diamonds. Those are used to hasten the development of the facility (shorter building cooldowns, more guests slots). Developers are being fair, so they also offer different activities that can earn us additional currency. You can, for example, watch adverts in "Ruby Cinema", which will reward us with diamonds. Other method is installing different games from Upjers! studio. Each game will give additional valuable treasures.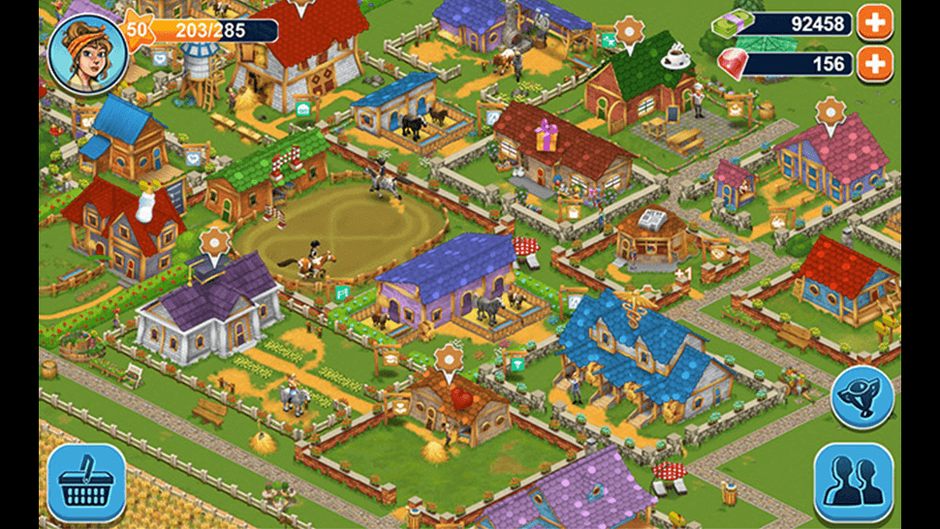 Horse Farm is a game not only for horse lovers, but also fans of mobile strategy and simulations. Free entertainment, loads of options for development and pleasant graphics, together with music will satisfy even most demanding gamers.
Make your Farm the best in the world!
Few tips for a good start
Complete the tutorial, it will teach you the basics of the game
Complete quests – it will guide your farm in the right direction
Watching adverts in Ruby Cinema will generate additional premium currency…
…which should be saved until later parts of the game, when it's more needed.
Notifications about needs of animals and guests, uses of buildings and quest info is displayed in the main area of stud. Increase the size od the map, to react to notifications as soon as possible.