Become the greatest business tycoon and build your empire!
Favorite cafe in Paris? Hometown? The street you walk every day? Or maybe a workplace? All this is at your fingertips. With Landlord Tycoon, the whole world will become your sandbox. This exciting economic game uses GPS localization and lets you invest in real estate in your area and beyond. Invest wisely and compete with friends, people from the country and around the world.
Although at first glance the game may seem boring and not very attractive, it does provide a realistic and very immersive experience. You play as a business magnate investing in real estate stocks in your area. Landlord is a virtual reality game that will make you feel like you are playing a real-life version of Monopoly. It uses Google maps so you can buy places that are within a kilometer of your current location – your favorite restaurant, school, street, neighborhood, or even the city or state you are in! If you are interested in a particular real estate that has already been purchased, nothing is lost – make the player who has its shares an offer that they won't reject.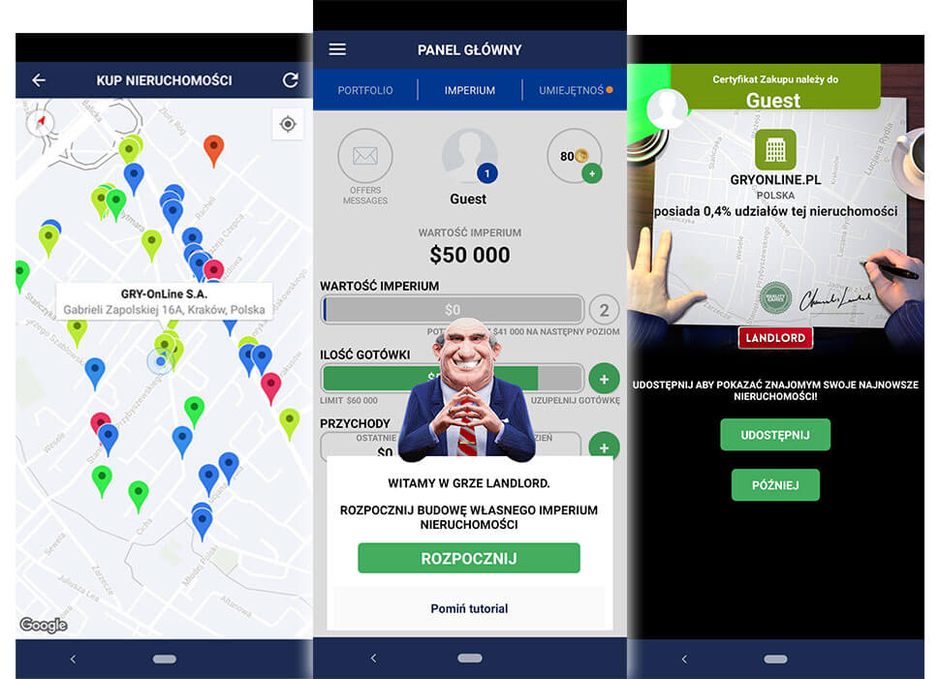 However, buying property in your area is not all. Landlord has a very simple and intuitive interface. This tycoon game can teach you the basics of economics and finance. You start the game with $50,000 which should be helpful in starting your empire. Purchased properties can be upgraded with items such as Wi-Fi or facilities for the disabled to increase their market value and sell them with a profit. Subsequent investments will allow you to increase the value of your empire, your player level and the cash limit. The game also has an offer market where you can invest in real estate from all over the world, put up by other players. Moscow airport? Train station in India? All this can be yours without leaving your home.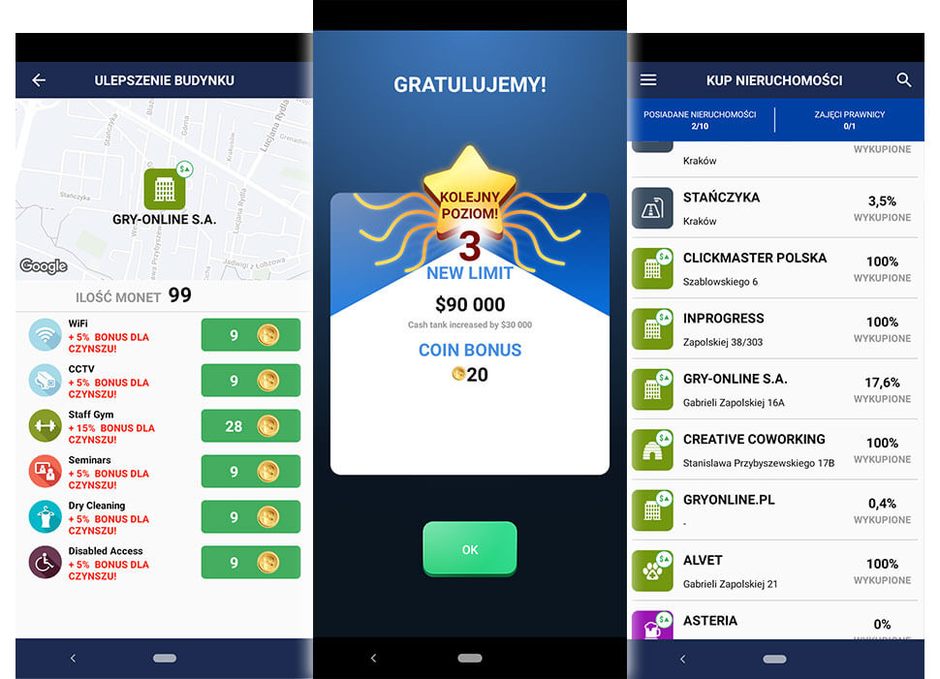 In Landlord, in addition to the dollars you invest, there is also an in-game currency in the form of gold coins. They are extremely useful for speeding up the gameplay and allow you to sell and invest in real estate stocks on the offer market. Placing such a bid costs only one coin, and thanks to this you will be able to make offers all over the world. You can sell your shares to the bank or put up for auction so other participants of the offer market can purchase them with coins. In addition, you can use coins to develop your skills, for example, an accountant to reduce taxes, or an innovator to reduce the cost of real estate, as well as to improve the game. They also allow you to refill your cash limit, increase your income by 50% for one or seven days and speed up paperwork – that is, the work of your lawyers – so that you can return to the market faster. You start the game with 80 coins, and the game has many opportunities for you to earn more.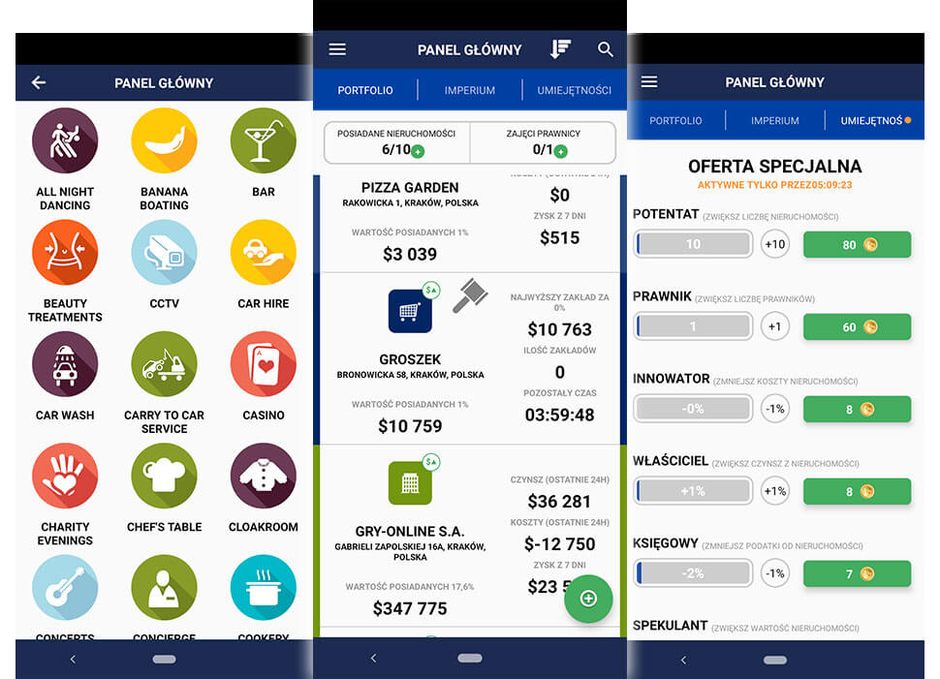 Landlord uses the Free2Play model meaning that the game has a premium store where you can quickly purchase large packs of coins. Of course, thanks to them, you can save a bit of time, but this isn't the only way to enjoy the gameplay to its fullest. The developers have made sure that coins can be earned in various ways, including the development of our empire, gaining a new level or viewing ads. Each week, a lucky player who writes a review for the game and sends Reality Games a screenshot will receive 500 coins (once per player).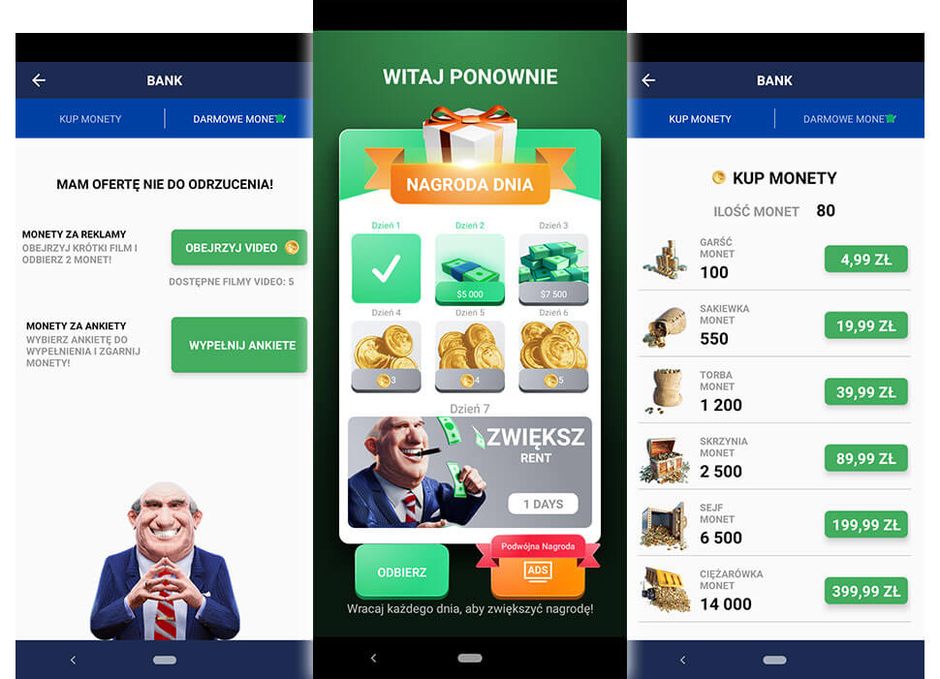 Landlord Tycoon certainly deserves your attention. It doesn't require you to check it constantly, however, it is an exciting game that offers great fun.
Here are some tips fort beginner Landlords:
Try to save premium coins, especially in the beginning stages of the game, they become much more valuable later on,
There are many ways of gaining coins for free for example by watching ads, daily gifts and…
Inviting your friends to the game! You can invite 5 people daily, and every accepted one is worth 50 coins!