Browser-based online mafia game!
Are there any fans of the Godfather movie among our users? If so, this time we have prepared for you quite a treat! MafiaBattle is a free browser game that combines elements of RPG, strategy and economy, and all this in the mafia setting. Attention! The game is designed for people over 16 years old!
Our adventure with this title will begin with character creation. Once we choose the appearance and hairstyle, we will be directly taken into a short, concise tutorial that will perfectly introduce you to the secrets of the gameplay. We will learn about the basic mechanics that the developers have prepared for us. Therefore, we advise you to focus when going through it to properly understand everything.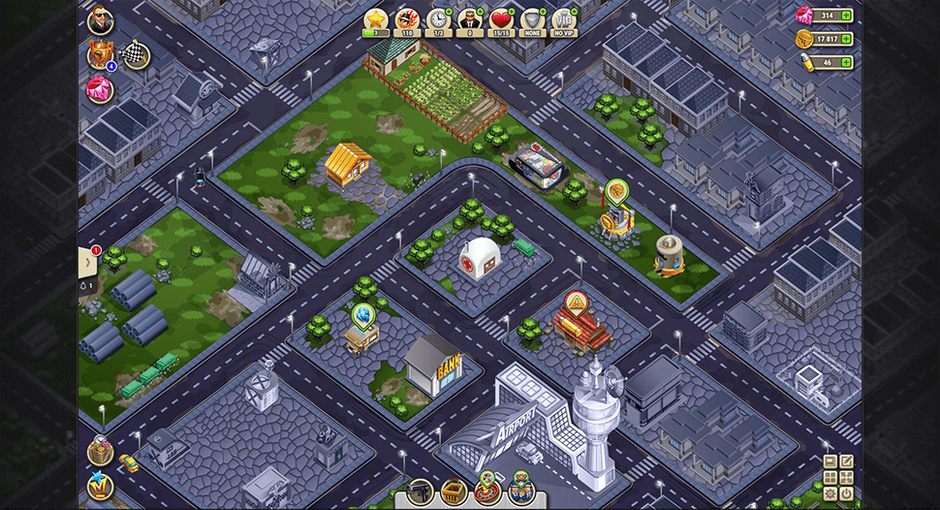 The game focuses on several aspects while remaining quite true to what we expect of a game about the mafia. Our main task will be the development of the previously created avatar, and we will do it in a number of different ways. We are here to develop our control of the city and its infrastructure, to participate in a criminal proceeding, battle with our adversaries, as well as to build the power of our family, which works like a clan or guild. In addition, the developers have enriched the game with gambling elements, that is... a virtual casino, in which we multiply, or lose our wealth.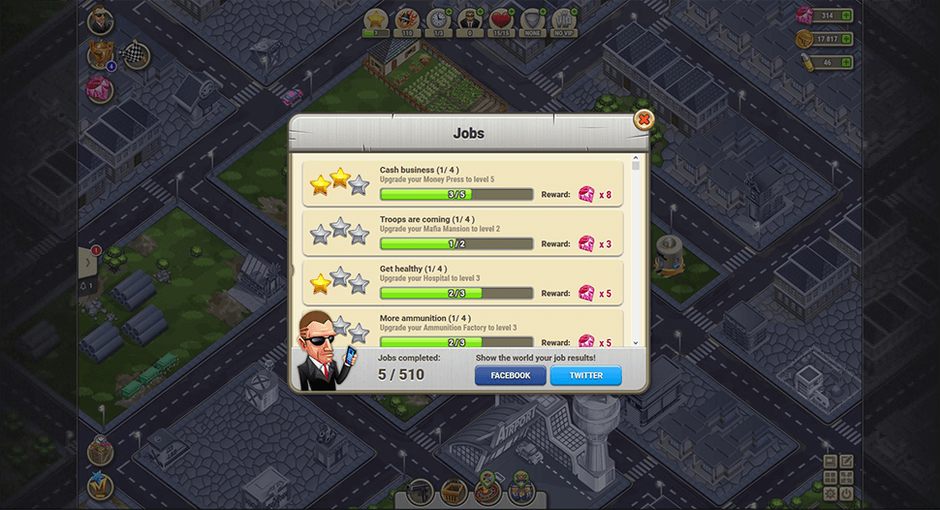 Let's first talk about city development. The city we manage will be primarily our base, as well as a place of development of our illegal interests. In it, we find not only a bank, hospital and airport, but above all such places as a money printing house, a tobacco and marihuana plantations, an ammunition factory, an arms laboratory, and an alcohol den. Taking care of the development of the city is crucial for success. For producing – calling them, tongue-in-cheek – the game's raw materials. To explain this with an example – the money from our laundry will be needed to develop the city itself and improve the status of the family and our own, and the ammunition created at the factory will be used in combat, etc.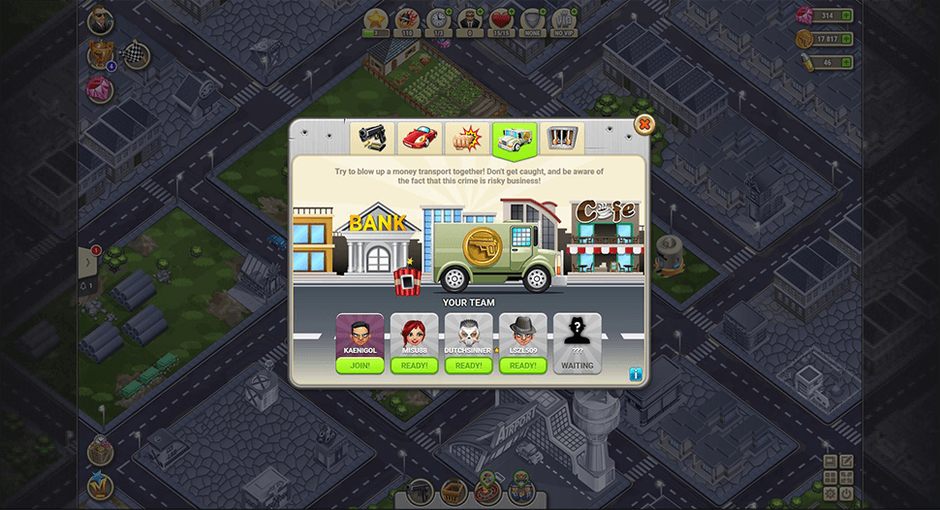 Criminal activity is, in turn, a tab that will lead us to mechanics that are certainly less strategic. There, you can commit crimes in different parts of the city, steal cars, attack opponents (both real players and NPCs trained in PvE mode), rob convoys of money. There's also a prison, from which we will be forced to release the captured people. Each of the above actions will represent a cash injection, and – as I said earlier – it is key to success in the game.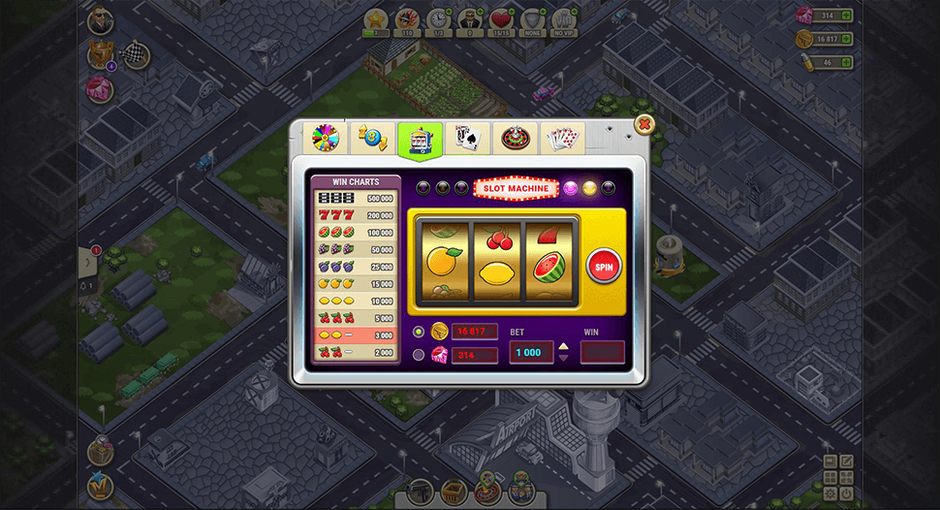 The game also greatly affects the social aspect presented here by our mafia family. A number of interesting mechanics are associated with it, such as:
Family tournaments,
Family cartel sites,
(Mafia) wars of the families,
And family challenges.
What's more, our family has their own Villa with a big safe, as well as a huge tank for booze. In addition to the family, we also find a ranking system in which we compare the strength of individual players and families.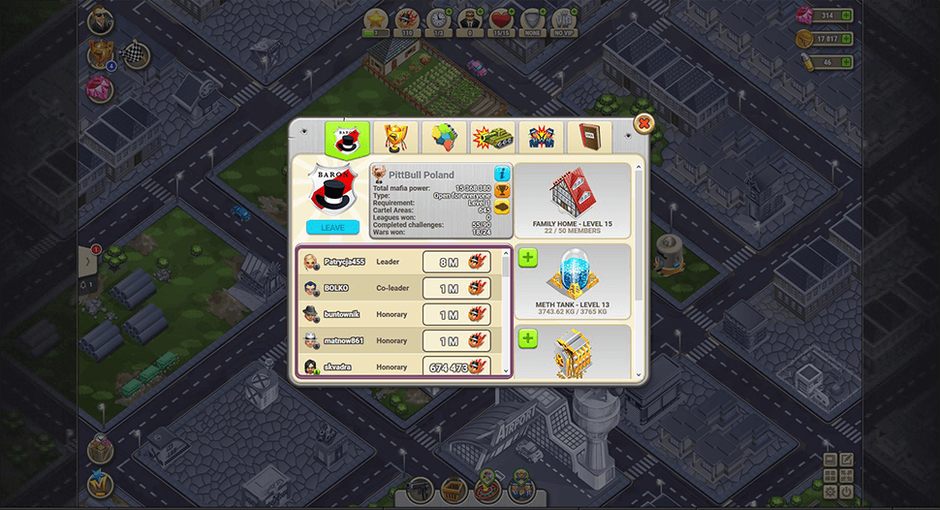 MafiaBattle is a completely free game, however – as it has become the standard in games based on the free-to-play model – we will find an additional premium store in it along with its premium currency – diamonds. But take it easy – the game is not a pay-to-win! Of course, diamonds speed up most of the available mechanics, such as improving the quality of buildings, let you get out of prison sooner, and enable more frequent street fights and attacks on convoys, however, each player will be able to enjoy the game fully without spending real money, and what those more patient they even will be able to compete on the ranking leaderboards. In addition, the developers have prepared a number of activities that allow you to get premium currency for free. This is, for example, a casino, where we can win a considerable amount of diamonds, as well as fulfilling orders and replenishing our collection with items offered in production!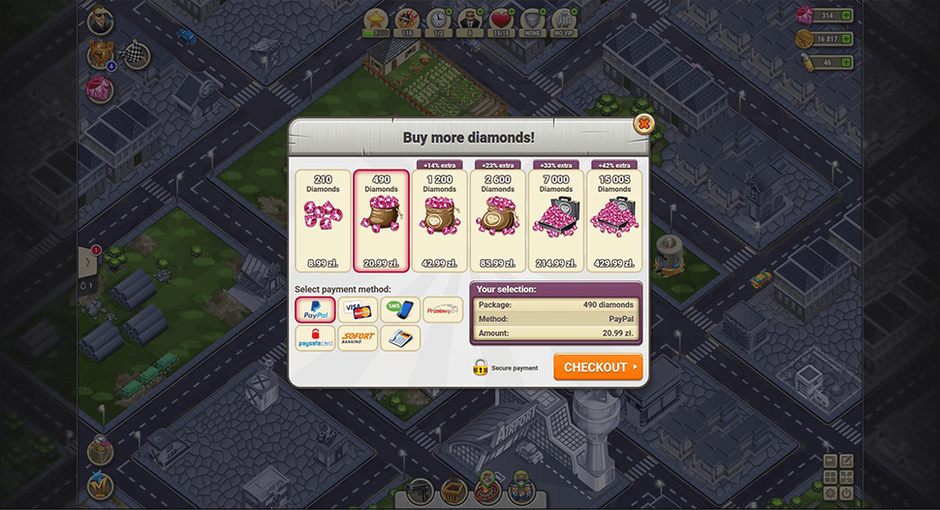 The production of the GAMOVATION studio is a very extensive game in a very unusual setting, which should be of interest not only to the fans of the mafia genre but also to other players, who love strategic and economic names with elements of RPG. A number of interesting mechanics, as well as huge, friendly communities, should guarantee pleasure for the tens of hours. Create your avatar and plunge into the world of dirty money right now.
We remind you: the game is designed for people over 16 years!
Useful tips for the head of the mafia family:
Do not get distracted during the tutorial, which is the most convenient way to get acquainted with the mechanics of the game,
After its completion, try to perform tasks/challenges to optimally develop your city, as well as earn valuable prizes,
As soon as possible, join a family mafia (in the "Family" tab) and participate in its actions,
Even if you're not going to play, claim gifts for daily log-ins,
Don't waste diamonds in the early stages of the game. They will definitely become more useful with as the gameplay progresses.