Become the best rock guitarist!
Have you ever wondered, how it is like to join best guitarist pros in the world? If the answer is yes, and you didnít try the real instrument, NETIGEN comes to the rescue! Rock Challenge is musical simulator, in which you can become full-time guitar player and become a star!
Gameplay at first glance is similar to well known hits like Guitar Hero or Rockband. When we click the Play button, we are transported to interactive world map, where we choose places for our concerts. Next, we get to our virtual stage, to play our best hits.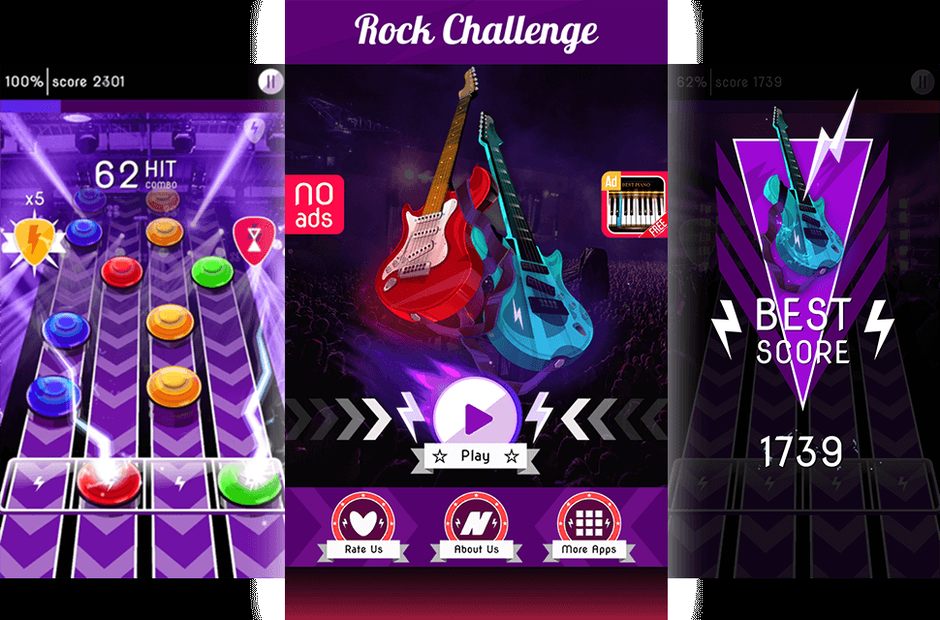 Developers took care of quality and quantity of specially recorded in-game tracks. Those guitar compositions will challenge the players with quick, reflexes demanding gameplay and sense of rhythm. To not went completely overwhelmed, we are presented with three difficulty options. We urge new players to Ďtest the watersí on easiest one, because this game is definitely easy to play, hard to master type. Perfect score demands sometimes many retrys! Whatís more, later levels demands specific number of stars to play, so try to max your score!
Title from NETIGEN is perfect choice for music game fans. Free to play model and great optimizations guarantee that it can be played on almost all mobile devices. Get into the Rock Challenge world now and try to move the crowds with your music!